Crypto Wallet App Development Company
RWaltz provides highly scalable and fully customizable Crypto Wallet application and digital wallet solutions to help you run your business more smoothly.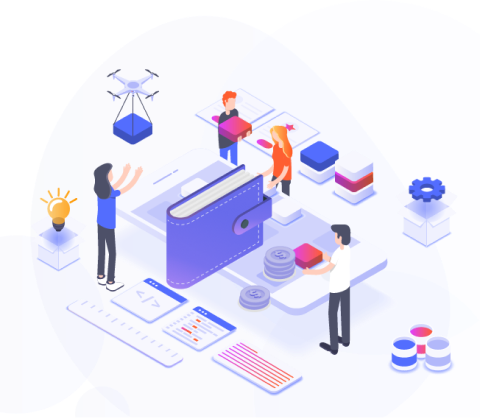 Our Features of Crypto Wallet App Development
Wallet Backup
All Your transaction history will be automatically backed up in our secure storage, and you will receive a monthly statement via email. Customers appreciate a feature that relieves them of one more item to worry about in their daily lives.
Multi-Currency Support
Customers can pay for your goods or services in the Cryptocurrency they are most familiar with.Creating multi-currency wallets with excellent UI/UX supporting popular crypto coins like BTC, ETH, Litecoin, ERC20 tokens, and multiple altcoins can help to stand out in the competition.
Robust Security
Creating cryptocurrency wallets with blockchain technology to form a trustless and decentralized ecosystem. Implementing cryptographic security methods and end-to-end encryption for secure and tamper-proof recorded transactions.
Why
RWaltz
for Crypto Wallet App Development?
RWaltz Software provides best-in-class wallet-building services for cryptocurrencies. We create feature-rich, highly secure, and reliable digital wallet solutions at the most affordable prices by utilizing the up-to-date technology stack. We specialize in assisting you in creating your own wallet with the help of a team of exceptionally talented cryptocurrency developers.
We concentrate on creating wallets that are highly secure, dependable and scalable, allowing you to stay ahead of the cryptocurrency game.
Blockchain Development For Various Industries
Banking and Finance
Financial players are the first movers to experiment on this technology. Many banks are trying their hand out on blockchain services for money transfers, record keeping and other back-end functions. Paperwork in banks will be converted to digital records like excel and many more technologies with the help of blockchain. With the help of Blockchain verified documents, financial crimes can be reduced. With KYC (know your customer) you can help to eliminate the money laundering and terrorism activities. Blockchain would help to reduce the mediator intervention in payment transaction systems so beneficiaries can benefit most from banking and finance.
Real Estate
Blockchain technology is recently been incorporated by the commercial real estate (CRE) industry. CRE officials are finding that blockchain-based smart contracts can play bigger role in their industry. Blockchain technology can potentially transform core CRE operations such as property transactions, purchase, sale, financing, leasing, and management transactions. Also providing new abilities as tokenization and fractional ownership of a property. This is especially interesting when it comes to costly assets like real estate. Rather than one individual owning one property, it may be possible for various individuals to purchase tokens of the property and co-own that property.
Automobile and Transportation
Automobile is the biggest industry to go through technology changes very rapidly. Blockchain can be very interesting in case of cars. Using smart contracts and IOT, dealerships can automate several processes involved in supply chain of raw materials and finished products, car sales, service, warranty claim processing and much more. Moreover, it helps the buyer and seller to avoid middlemen or third parties to be involved in transactions or insurance claims. This decentralized ledger technology can help to build a state of trust and peacefulness in customers, manufacturers and service centers with it's transparency and immutability.
Government
Using blockchain applications for government use will foster the public sector in an unimaginable way. So many process will become faster and more efficient with the use of blockchain technologies. The existing system will change its look towards the new blockchain based application which increase the citizens trust over government policies. A blockchain-based application for government can secure the information, streamline processes, and eliminate fraud, and misuse all the while expanding trust and transparency. On a blockchain-based government model, people, organizations, and governments share assets over a distributed ledger which is verified using cryptography. This structure reduces a single point of failure and secures citizen and government data.
Healthcare
Blockchain in healthcare will be the best innovation in the health industry. Apparently, there is still no universally recognized patient identifier where blockchain can help. Also for the authenticity of medical equipment and medicines, blockchain-proof supply chain will help. Despite being deemed an illegal practice, information blocking has been a problem in the healthcare industry, with blockchain we can achieve that in no time. The confidential data of patients dispersed over multiple systems can be streamlined utilizing blockchain. The medical records would be able to be shared effectively and safely. The cryptography will deal with all the issues offering scalability as well as data protection.
Logistics
Use of blockchain in logistics will make it more secure. Since the logistics industry involves many parties, manufacturers, customers, suppliers, auditors, etc everyone will find the blockchain to be advantageous. With the help of blockchain customer can track the product very easily and the whole manufacturer to customer chain can be traced in this way. The importance of blockchain in logistics is something more than just storing data. Blockchain technology builds a value in the supply chain through better security and process standardization, yet it holds extra a value through new logistics services and business models. For example, blockchain upgrades auditing of goods transported, invoice management and cybersecurity.
Trading
Trading was the first application of blockchain which initiated in 2015. Security and trading are very closely related. The blockchain functions through a viable bookkeeping system and can register every transaction, denying the possibility of changing and deleting any of them. So trading becomes quite easier with blockchain being a core part of it. The issues of high risk, irresistible to fraud and slow processing in trade finance can be eliminated with the help of blockchain. Blockchain technology is based on a digitalized and decentralized ledger model which offers more security and robustness than the existing system. This reduces the possibility of fraud and makes it easier to trace the trade transaction..
Insurance
Technology disruption has arrived at insurance industry. Blockchain is helping the insurance industry fundamentally by transforming the operational processes with faster authenticated data exchanges, visibility for all parties, and exchanges supported with security and trust. They're automating all the insurance regulatory processes and thus improving proficiency and accuracy for insurers and state insurance departments. Blockchain based insurance process will change the current working of insurance. These processes will ensure security and authenticated document verification, faster claims process which will increase the trust factor amongst the clients.